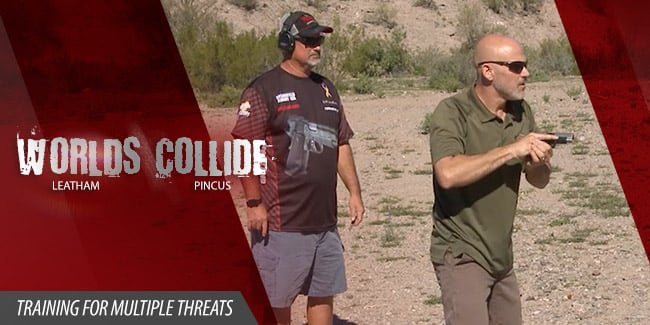 You've got it all under control - target is in sight, take aim and fire. However - it's not always quite that simple. What happens if another target appears that you didn't know existed? That's when all of that training you did for multiple threats should kick in.
Let's see how the Robs prepare for this scenario.
Welcome to "Worlds Collide," bringing together the perspectives of two of the shooting world's top minds, Rob Pincus (Personal Defense Network®) and Rob Leatham (Team Springfield™).
The Punch You Don't See
As Rob L. would put it in boxing terms, "It's the punch you don't see that gets you."
"That's why it's critical that you integrate a realistic plan for finding your next threat into your training. As a competition shooter, you almost always know exactly where the next target is and you are able to choreograph your transitions and movement. It's a physical, pre-planned act.
In the real world, you've got to focus on one threat at a time and circumstances are constantly changing. You've got to learn to break focus when you're done with one threat and assess your surroundings immediately. This is much more of a mental exercise, training yourself to become aware of what's important.
This episode of Worlds Collide shares a training approach that forces you to not just go through a choreographed set of movements, but to also truly collect and process information. This is an area of practice that is conspicuously absent from competition shooting and standard timer drills.
You've got the techniques down and you are conceptually aware that scanning and assessing your environment is important. Now, find ways to integrate "information processing" into your practice!"
CATCH UP ON PREVIOUS WORLDS COLLIDE EPISODES