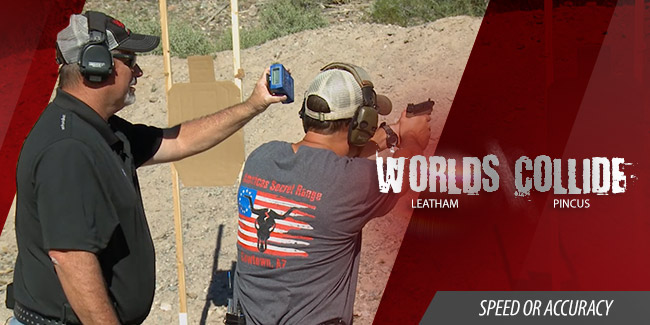 It's a tough call - when it comes to shooting, you may have to prioritize speed or accuracy. You do not however forget about the other... Take it from this episode of "Worlds Collide" - you can be speedy AND shoot right on target.
Welcome to "Worlds Collide," bringing together the perspectives of two of the shooting world's top minds, Glen Stilson (Independence Training) and Rob Leatham (Team Springfield™).
The Age-Old Question
It doesn't matter what platform, caliber, model or brand you're using - the same question is in the mind of many shooters: "What's more important - speed OR accuracy?" It boils down to this: How fast can you shoot before you start missing and how slowly must you shoot in order to become more accurate?
But the myth of this classic query is that the "or" is misleading - you can have the best of both worlds. It just takes a little skill and enough practice.
There are ways to test how fast you should go, but skill-building is the only way to improve your ability. Speed is always the goal, but only if you maintain an acceptable level of accuracy. If you choose to go TOO fast there are costs associated with that choice. You can eliminate or reduce those costs with discipline and training. Try out the drill that Rob is demonstrating - make use of an audible start signal to practice reactionary shooting.
Test your reaction times and see how well you can master the most important skill factor - pulling the trigger quickly without moving the gun.
CATCH UP ON PREVIOUS WORLDS COLLIDE EPISODES