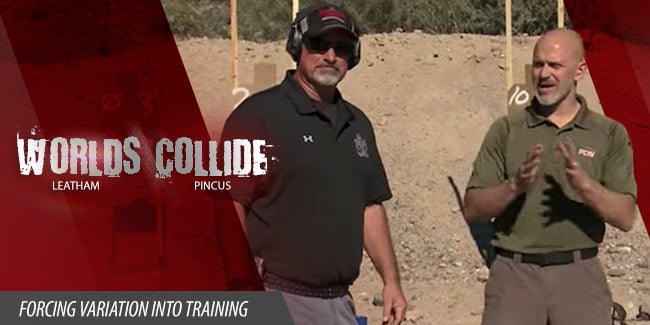 In the final episode of Worlds Collide, Rob Pincus introduces Rob Leatham to a shooting drill that can't be "gamed" and forces shooters to think on their feet as they engage with a set of three standing targets.
Welcome to "Worlds Collide," bringing together the perspectives of two of the shooting world's top minds, Rob Pincus (Personal Defense Network®) and Rob Leatham (Team Springfield™).
Game on
I.C.E. Training Company's Figure 8 Drill is a versatile, evaluative drill that can be used to help you understand your ability to actually apply your skills. By requiring the shooter to process information, as opposed to simply performing a choreographed set of movements on a buzzer, even one of the best shooters in the world can become confused.

Using drills to simulate some of the chaos that might be part of defensive shooting is a key component of reality-based training. As this clip shows, you can't count on being able to apply your skills at the same level when you are forced to process information.
Don't let your training model stop at a level that creates false confidence. It will always be easier to shoot when you know exactly what is about to happen.
As a side note, imagine being in an active-shooter event, pulling your gun and having the police come around the corner only to see you waving an extended gun around at the crowd - do you look like a good guy or a bad guy?
Keeping the gun in a compressed ready, or possibly even your holster, until you have properly identified a threat and committed to shooting is a much preferred method.
CATCH UP ON PREVIOUS WORLDS COLLIDE EPISODES