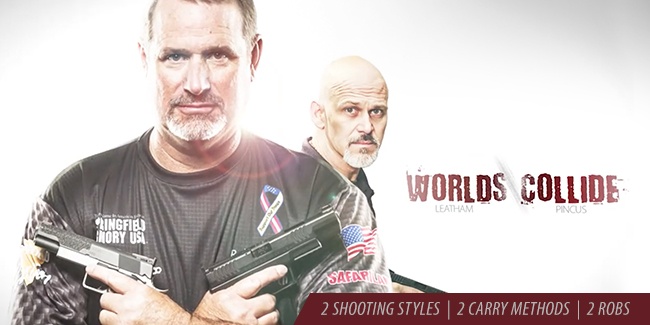 Ali and Liston. Jordan and Barkley. Leatham and Pincus. Take two titans of the industry and put them on a range together, and there is bound to be some vigorous and opinionated conversation firing up.
Welcome to "Worlds Collide," bringing together the perspectives of two of the shooting world's top minds, Rob Pincus (Personal Defense Network®) and Rob Leatham (Team Springfield™).
Competition Style vs. Defensive Style
Shooting is shooting, regardless of the application, right? In some ways it's true, but just like precision rifle shooting is different from skeet shooting, using a pistol in a defensive situation could be very different from using one in a competition.
So whether you're on the range for a competition or on the street with a defensive carry, the same techniques can be applied. While the process of preparing to fire a shot may be different between a competition and defense technique, the firing of the gun is the same. The major difference is the idea of knowing when and where to shoot (competition) versus a spur-of-the-moment realization of these aspects (defensive).
The key thing for defensive shooters to remember is that both before and after the shooting of a threat, you'll need to be processing information from works around you. There are no stage briefings in a fight!
Carry outside vs. Carry inside
So what does an inside-the-waistband concealed carry offer that an outside-the-waistband one doesn't? One thing right from the get-go - while an outside holster might offer the more comfortable concealment method, it also limits your mobility if you're trying to keep your pistol inconspicuous. So why is that important? Because in the real world, a concealed carry pistol is your practical, defensive weapon of last resort.
Inside carry helps you keep your tool hidden until you need it and is better for most people, most of the time.