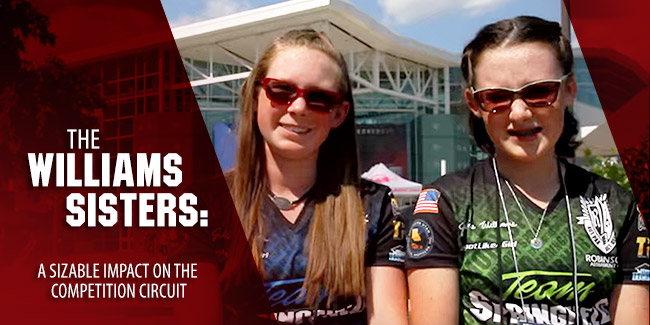 Who can outdraw Team Springfield™ Captain Rob Leatham? Two young ladies, that's who. At least they beat him on occasion and probably because he's giving them plenty of tips.
But seriously, Team Springfield™ Captain Rob Leatham did score a big win when he spotted the two newest members of Springfield Armory®'s shooting team. Seeing sisters Jalise and Justine Williams handling a pair of Springfield Armory® XD(M)s like pros at the USPSA Nationals, Rob and Kippi Leatham immediately decided they needed to work with these young shooters. Now at the ripe old age of 13 and 12, they're taking the shooting world by storm.
In Their Own Words
Recently, the shooting sisters took time out of a busy match schedule to finish a video interview. It's posted here, but if you want a couple of highlights...
Question: Are you morning or night people?
Justine: I'm a morning person… in the afternoon.
Question: What was your favorite match this year, and why?
Jalise: The Jamaican Invitational! They started a DJ at 8 a.m., and barbecued all day long. And everyone is so mellow. They all have so much fun, and they're so happy.
Question: What do you think of Rob Leatham?
Justine: Rob's a pretty fun guy. He helps me with stages. He's a pretty good shot, too.
Practice Makes Perfect
While the girls are tearing up stages in Three-Gun, USPSA and Steel Challenge, they're also racking up straight-A report cards, dancing, reading, using their hard-earned black belt karate skills and doing a little motocross.
The sisters didn't just stumble into their many sponsorships. Under the coaching of Glen Wong, they practice every other day during the school year and five days a week during the summer. At 200 rounds each per practice session, they're getting serious trigger time.