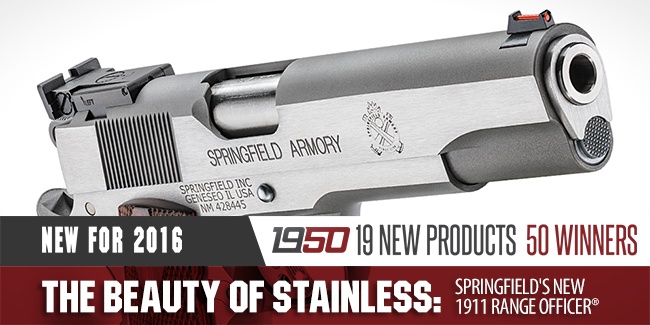 If you love the look of stainless firearms and the tarnish- and rust-resistant features of stainless steel, the finish is now readily available in the Springfield Armory® 1911 Range Officer® (RO) pistol line.
FLAWLESS FINISH

Now we call stainless a finish, but, in this case, it is the actual material of the gun - stainless steel - unlike Blue or Armory Kote™ finishes.

Stainless is not a new material to Springfield - we use it in most of our pistol lines. But it is new to the RO pistol line. The stainless 1911 Range Officer® brings the durability and look of this popular material to the essential RO pistol lineup.

The new stainless model is based on the same specifications as the full-size 1911 Range Officer® models and offers the same performance and value that has made the RO a hot product for us.
WHY SO POPULAR?

The RO's base specs are impressive and, more importantly, competition-ready. Here are a few of my favorite features:

Precision-fit, steel, match-grade barrel

Fully-adjustable rear sight

Beavertail grip safety

Extended lightweight trigger

Flat mainspring housing

41 ounces (just less than the maximum 43-ounce limit for competition)
These basic elements contribute to the exceptional accuracy, reliability and durability of the entire RO series.

And the new Range Officer® is only enhanced by the addition of stainless steel as the base manufacturing material.

JUDGING A GUN BY ITS COVER
The attraction for me, hands down though, are the looks. Many of you may love the appearance of chrome or nickel guns. I sure do. My favorite finish for a 1911 frame is actually hard chrome-plating. Not specifically due to its corrosion resistance or anything like that - I just really like the look.

However, hard chrome-plating, nickel and chrome coatings are expensive and are very involved to produce. Stainless steel can offer that same sweet appearance without the cost and trouble of:

Meticulously prepping the gun

Additional time spent sending the gun somewhere to be coated
AFTER-MARKET ADDITIONS
Which brings me to some other benefits for you gun tinkerers:

When you decide to add a mag well, checker the front strap or put your own personal little touches on your gun, you don't have to refinish it.

If you scratch it up and it needs a little finish work, you can do it yourself.
This won't matter to the majority of owners, but the RO pistol line was designed as an entry-level competition gun, one that you can gradually upgrade as your budget allows and/or needs dictate.
WEAR AND TEAR (IT UP)
Now, due to the durable stainless "finish," we expect and want you to shoot this model a lot.
Stainless by definition, though, is resistant to tarnish and rust, which is why you should also wipe down a stainless gun after shooting it (and then store in a dry location).
Even in Arizona, where we rarely have humidity worth mentioning, I wipe all of my guns down when done shooting. Or I imagine wiping them down. And then I plan to wipe them down... tomorrow. Or sometime before the next big match.
In all seriousness, stainless is considerably easier to keep looking nice - much easier than any other finish because, wait for it… the gun is the finish.
CHOOSE A CHAMBER, HIT THE RANGE
Our new Stainless 1911 Range Officer® is ready to go in both 9mm and .45ACP chamberings. In my opinion, this gun offers great off-the-shelf value for the plinker, aspiring competitor or gun-owner who plans on future upgrades.
Price, performance, reliability and, now great looks and rust resistance - the Stainless RO may be one of the best do-it-all 1911s around.