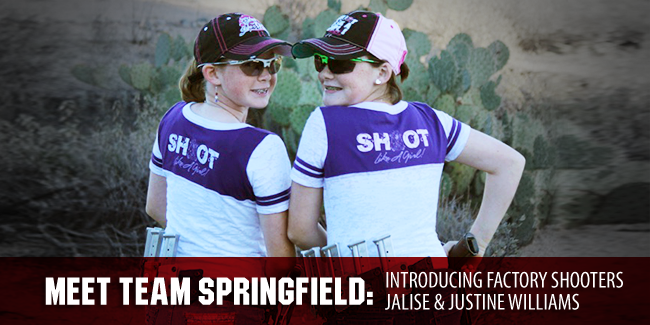 I have proudly been a member of Springfield Armory®'s shooting team for several decades now. Over the years, I have seen many, many shooters come through our program. Some have gone on to become great champions and are still close, personal friends.
Great competitors like Brian Enos, Doug Koenig, Alan Fulford and so many others - all were at one point Team Springfield™ shooters. Sadly, Alan is gone now, but Dougie and Brian are two of the best shooters of all time and still my good buds.
But it isn't just the winning they have done that makes them special. It is something much more than that. Something called character. Character sets champions apart from winners.
And I'm happy to announce that we have a couple more "characters" joining our team.
Meet Our Williams Sisters
I would like to introduce Jalise and Justine Williams, the newest members of Team Springfield™. (I call them J-squared.) Jalise (pronounced Jay-lease) and Justine are young shooters, not even teenagers yet. And they may be the next generation of Team Springfield™ champions.
Already very accomplished shots, I believe they have greatness in them.
It is, however, not just the potential winning that intrigues me about these two kids. It is their whole program and work ethic. And that started with Mom and Dad. J-squared is a product of quality, expert parenting.
Jaime and Jason, a.k.a. Mom and Dad, have raised their girls to be good people first and good shooters second. This is so refreshing in this day and age. What enticed me to take a closer look was, primarily, their on-range presence along with the fact that they had chosen to compete with our new XD(M)® 5.25" 9mm pistols.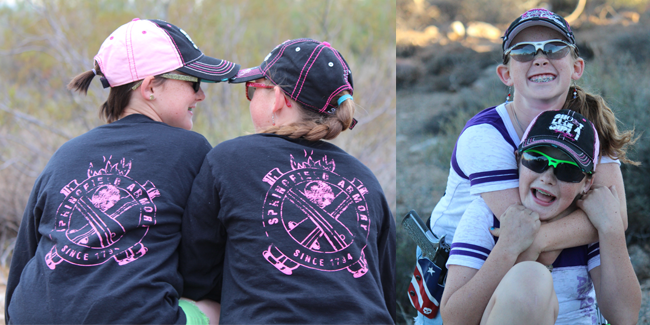 THE TOTAL PACKAGE
Again, it isn't just about their shooting skills. While both are very talented, that is not unique. There is no shortage of shooting talent out there. What really caught my attention was how they conducted themselves at the range. The combination of such high levels of character, devotion, personality and talent is very rare today.
I call it the total package, and these youngsters have it.
Fun, yet serious. Lighthearted, yet committed. These two multi-faceted shooters, who also perform great academically, have been such fun to get to know. It is a well-orchestrated family unit. Plus, they have a couple of other assets, like their awesome shooting coach, Glen Wong, that make this family "shooting package" possible.
So without further adieu, please get to know Jalise and Justine Williams. I hope you will have the pleasure to meet our newest Team Springfield™ members at a range near you very soon.
- Rob Leatham
Meet Jalise

Hi! I'm Jalise Williams, and I'm 12 years old. I live in St. George, Utah. I've lived here my entire life, and I love the sunshine.

My favorite colors are red, white and blue (mostly blue). I love to read, primarily fantasy and fiction. I'm in honors language arts and math in school. I also like to study American history and enjoy going to museums.

My favorite quote is, "Success isn't given. It is earned." This quote describes me, because whenever I get knocked down, I get back up and continue the fight.

I am totally committed to the shooting sports, and I plan to make history. Maybe not today, maybe not tomorrow, but I will one day.
Meet Justine
Hello, my name is Justine Williams. I am 11 years old, and I love to shoot! I also love school and work really hard to get all As. I love to read, and I do not play video games.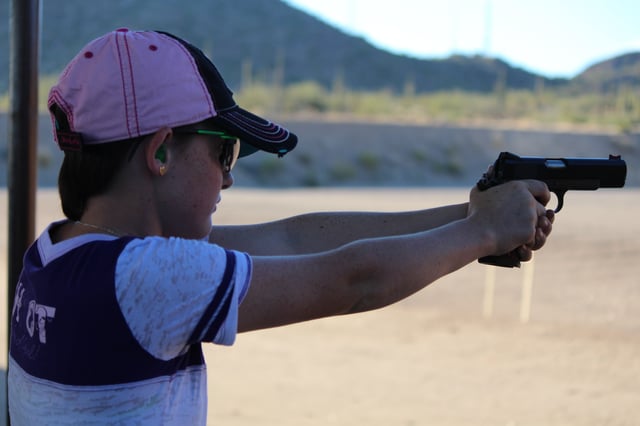 My favorite hobbies are shooting, singing, acting and dancing. My favorite subject in school is science - I love the projects, experiments and games. My favorite animals are dogs and horses.
My favorite quote is "Winning is not just a dream - it's what I do!" Shooting is epic. It is the best thing that ever happened to me!
In Mom And Dad's Words...
It's truly an honor to have our two precious girls on Team Springfield™. To watch them grow during this journey has been fun, hard work, inspirational and a learning experience! We are proud that the girls have also inspired many other women and juniors along the way, and we hope that with this Springfield partnership, they can touch the lives of many more.
People often ask how we get them to do it, but this is what they chose. As parents, we could have influenced them to choose another sport or not supported this choice, but they have always loved to shoot.
And from the moment they found out they could compete, they were hooked. It could have very easily been something different, but this is where their passion is. Even when we are tired, they are right there, ready to go to the range. The two of them approach the sport and life differently but, at the end of the day, come together and support each other and those around them.
Thank you Springfield Armory® for investing in our daughters! We are certain they will make you as proud as they make us.