Did you make a New Year's resolution to expand your Springfield Armory® arsenal this year? Well, you won't have to wait long to fulfill that resolution, as we have several new options you can get your hands on.
Here are six new-for-2017 Springfield products shipping right now.

The new EMP® Concealed Carry Contour brings a new, even easier to conceal member to the EMP® family. With a gentle curve added to the mainspring housing, it conceals more effectively and fits the hand more comfortably. The Concealed Carry Contour model brings Springfield Custom™ features and performance to market.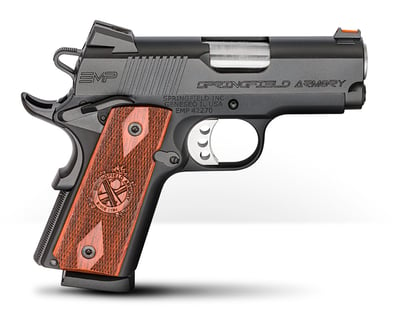 If you need a 1911 to carry with you daily, look no further than the new EMP® with black Armory Kote™ finish. Not only does it conceal well, the black hardcoat anodized frame, durable Cocobolo wood grips, and new finish make it irresistibly attractive.

The standard setting pistol for no-compromise fighting handguns is now available in Operator® Tactical Gray. The original TRP™ pistol was designed as a consumer-friendly alternative to high-end custom shop 1911s. The new model also features an accessory rail and low-profile rear combat sights.

The XD® Mod.2® 4" Service Model is now available in .45ACP! The Service Model is a slim, ergonomic pistol with amazing capacity. Now you can carry 13 rounds of .45ACP, making it great for range outings or everyday carry.

In addition to the 4" model, you can also get the XD® Mod.2® 5" in .45ACP. Its slim profile and high capacity paired with the proven track record of .45ACP make this pistol a must-buy in 2017. The new gun packs 13+1 rounds of big bore ammunition into a package more like that of a standard size 9mm pistol.

We didn't forget about the XD(M)® line-up, either. If you want to add some precision aiming to your pistol repertoire, you'll need this OSP® model. It comes with a Vortex® Venom red-dot sight pre-installed, resulting in enhanced aiming and target acquisition.

No arsenal is complete without an AR. The SAINT builds on a rock-solid foundation void of any accuracy depleting wobble. The trigger beats many stock AR triggers and the Melonite® treated barrel with a 1:8 twist equips it to handle heavy 80-grain ammo types. While equally at home on plinking and competition ranges, its built for defense and packs features valued by warriors into a carbine with a price point at a fraction of what one would expect.