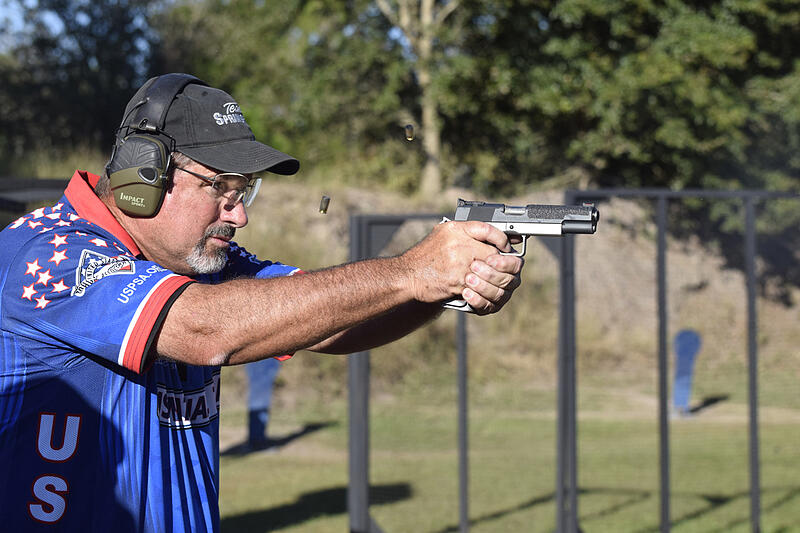 Springfield Armory® would like to congratulate its team captain, Rob Leatham, on winning his 8th world champion title at the International Practical Shooting Confederation (IPSC) World Shoot XVII, held at the Universal Shooting Academy in Frostproof, Fla. The World Shoot, regarded as the Olympics of practical pistol shooting sports, is held every three years and attracts an elite roster of international competitors from more than 80 countries.
Leatham—using a Springfield Custom™ 1911 9mm—walked away with several victories, including the Overall Classic Division, Senior Classic Division, and Team Classic Division World Championship Titles. He also competed in and won the Classic Division Shoot Off, where he was pitted against the top eight single-stack shooters in the world in a man-on-man speed event.
"Thanks to the Springfield Armory Custom shop, my 1911 worked flawlessly. World championships are won by a few points most of the time, and this one was no different. I simply cannot worry about my equipment, and thanks to Dave and Jason at Springfield Custom™, I can focus on each and every stage for each and every shot," Leatham said.
The six-day competition featured Leatham going through 30 courses of fire, and firing more than 500 rounds of ammunition. His win at World Shoot XVII comes 31 years after Leatham's first IPSC World Shoot victory.
"To win another World Championship at this point in my career is icing on the cake. I am honored to have been on the U.S. Team and proud of my teammates, Todd Jarrett, Gary Byerly and Keith Dilworth, for bringing home the gold," Leatham said.
"Everyone at Springfield Armory® is extremely proud of Rob for this incredible 8th world title. It's no secret that Rob is "The Great One" when it comes to competitive shooting, and this career accomplishment is just another reason why he is our team captain," said Chad Dyer, marketing manager for Springfield Armory®.
For more information on Springfield Armory®'s 1911 custom handguns, as well as tips and advice from 8-time world champion shooter Rob Leatham, please visit http://blog.springfield-armory.com.
About Springfield Armory®
The First Name in American Firearms, Springfield Armory, began in 1777, when George Washington ordered the creation of Springfield Armory to store ammunition and gun carriages during the American Revolution. In 1794, the armory began to manufacture muskets and spent the next 150 years supplying firearms for every major American conflict. The original armory closed in 1968. In 1974, the Reese family took ownership of the Springfield Armory® name and began making the M1A™ rifle. Today Springfield Armory® develops many products loyal to the company's heritage, like the 1911 pistol, while ensuring its future with innovative products including the XD®, XD(M)® and XD-S® polymer pistols. Learn more at www.springfield-armory.com.