Since my retirement from law enforcement (LE), I am not required to carry a specific make or model of gun anymore. That's a nice change for me, because my favorite pistol of all time is a full-size 1911. So when I turned in my department-issued pistol and received my official ID, indicating my LE "retirement status," I started carrying my full-size Springfield Armory® 1911 TRP™.
It may seem odd to most, but I have grown very fond of and comfortable with the added weight of the full-size, steel-framed 1911.
Stay tuned for how Springfield Armory®'s new Range Officer® Elite Champion™ factors into my daily-carry routine.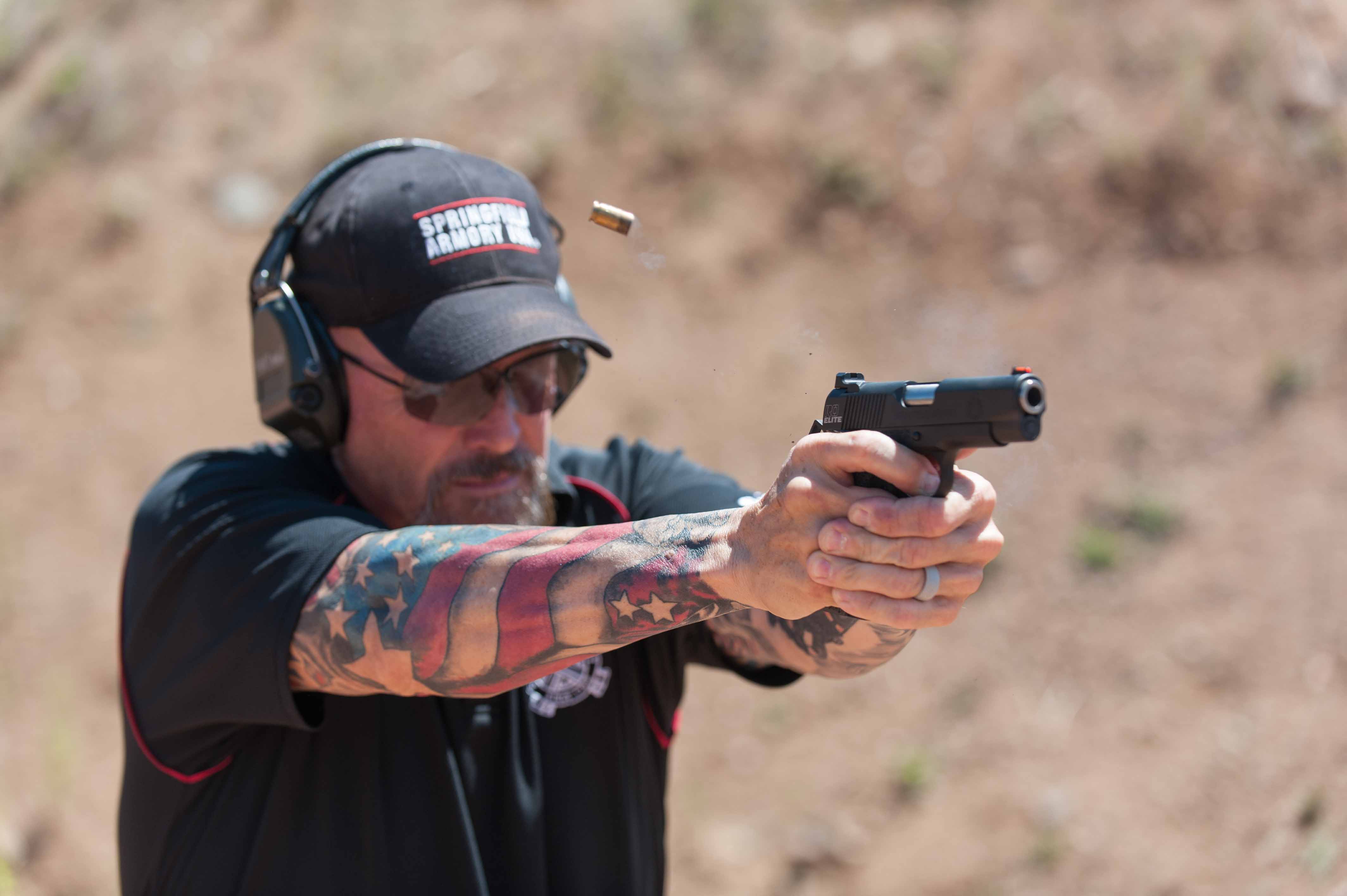 Change of Carry
On occasion, I will switch things up from the TRP™ and carry my Range Officer® (RO) Champion™ model. With the lightweight alloy frame and four-inch stainless steel match-grade barrel, the gun carries very differently than its full-size, steel-frame counterpart.
When I have the Champion™ in my IWB holster, it's almost unnoticeable, as the shorter barrel and weight of the gun, or lack thereof, makes it extremely comfortable for all-day carry.
Prior to carrying and using my RO® Champion™, though, I had a little work done on it by my friends back at Springfield Armory®. The enhancements included a new set of sights and a different finish. I also added a set of G-10 grips myself.
Other than these mods, though, my Champion™ is completely stock.
A Familiar Elite Champion™
Fast forward to summer 2017—essentially the mods I made to my RO® Champion™ are accounted for in the new RO® Elite Champion™.
(Not saying I had any influence with the new, smart design, but...)
I got my copy of the Elite Champion™ several days ago. I eagerly headed out my back door to my range, as I had to put a bunch of rounds through it to test function, accuracy and reliability, especially since it's for self-defense.
As is normal for my testing of Springfield products, all went well and I have been carrying it on my side ever since. #BuddySystem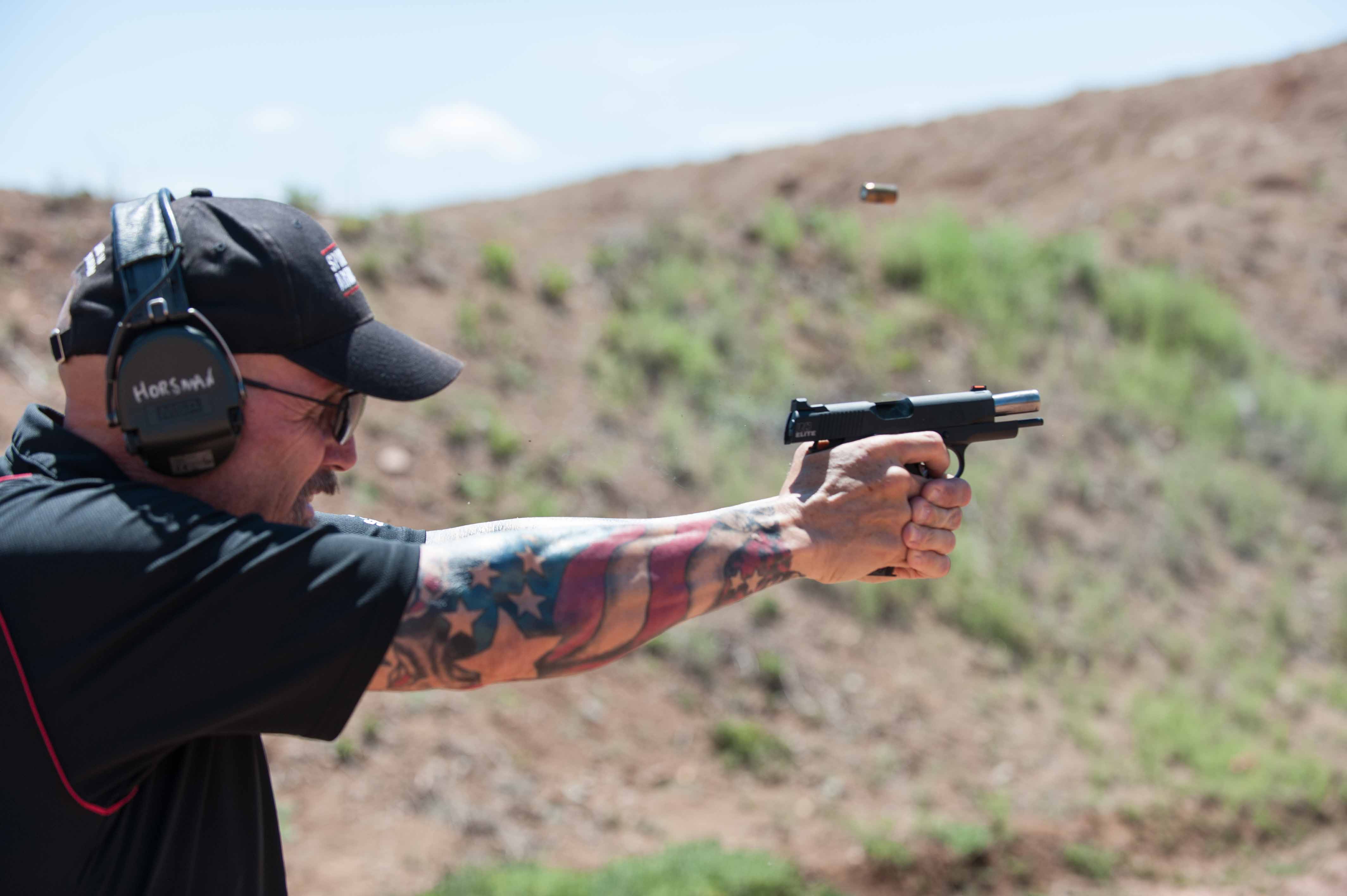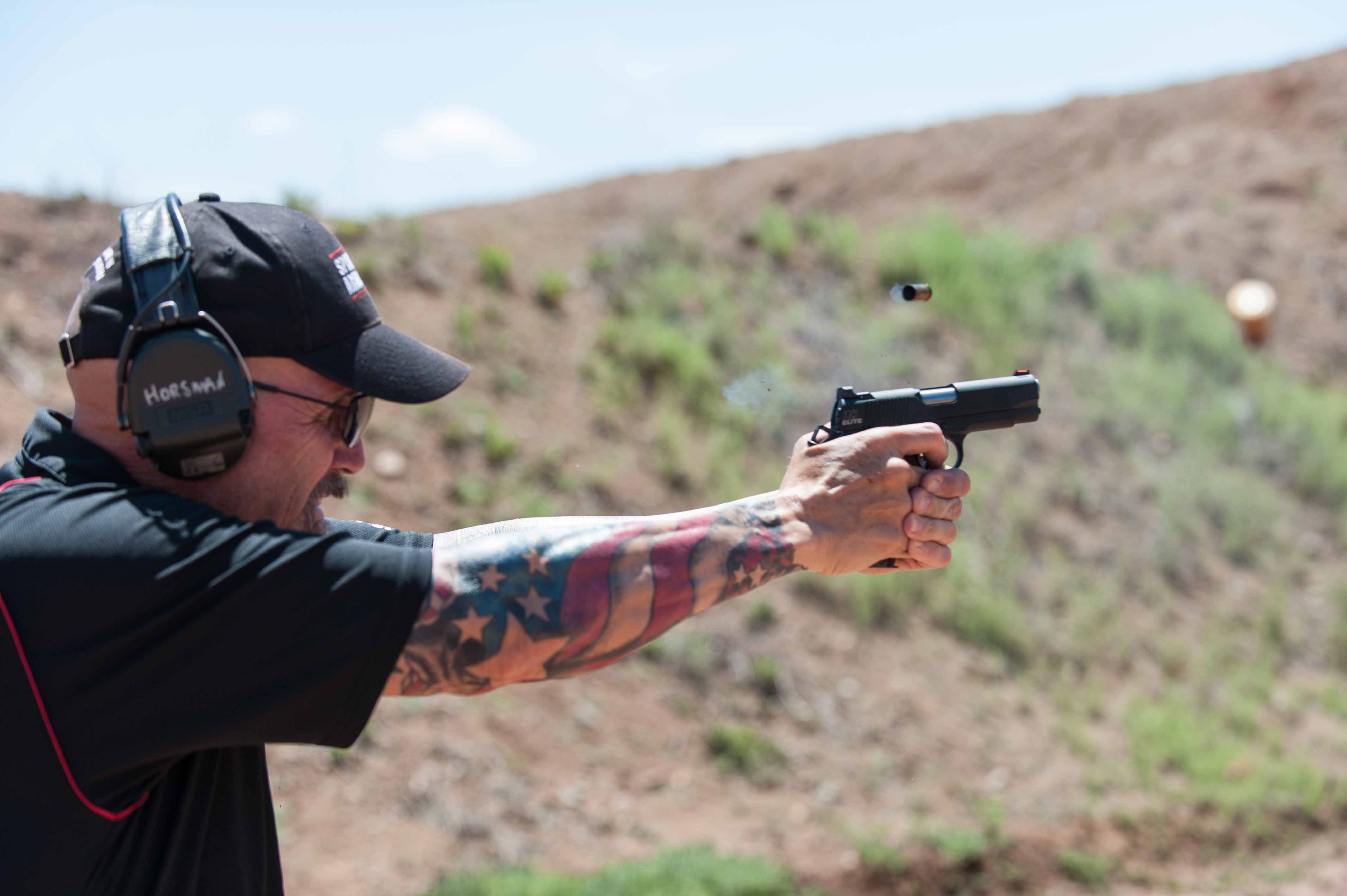 Notable Features
The new features on this gun were apparent as soon as I took it out of the box.
Rear Sight
The Springfield tactical rack white-dot rear sight is a drastic change from the original, Novak-style sight that Springfield has used for years. And I like it. A lot.
It's designed to assist with injured-shooter drills, which means there is an area on the slide that can be used to rack the slide on a flat surface or a gun belt, if necessary. Not only do I really like the looks of the new sight, but the new design is also extremely useful. Especially for a defensive-carry gun, it's important to be able to rack the slide one-handed.
Front Sight
The fiber-optic front sight has not changed from the original RO® Champion™. No complaint from me on this, as I have grown to prefer fiber-optic front sights on my defensive-carry pistols. As I get older and my vision gets a little worse, I appreciate that I'm quickly able to pick up the red fiber-optic "dot."
Weight
And the lighter-weight aluminum frame (just 30 ounces with an empty .45ACP mag) makes the RO Elite Champion™ 1911 a dream to carry.
Match Testing
I live in a somewhat remote location, so organized shooting competitions are few and far between for me. Occasionally, I will use my carry gun when I shoot a pistol competition, whether USPSA or IDPA. I decided to take the RO® Elite Champion™ to a match recently. The pistol ran flawlessly, as expected, and I was very pleased with his performance. I didn't win the match, but I can't blame that on the gun.
I've since taken the Champion™ to the shooting range on our property several times, and the more I shoot it, the more I don't want to send this gun back to Springfield Armory®.
(I know, I know, there are worse problems to have.)
Multi-Purpose & Lightweight
The RO® Elite Champion™ is another gun that fulfills my personal needs perfectly. With its light-weight alloy frame and four-inch barrel, it is extremely easy to carry—sometimes I forget that it's even there. I also really like the G-10 thin grips, the sight configuration and ability to rack one-handed.
For those of you looking for a multi-purpose, compact, powerful, lightweight pistol, check out the entire line of the Springfield Armory® Range Officer® Elite pistols—but specifically the Champion™.
You're gonna like what you fire.