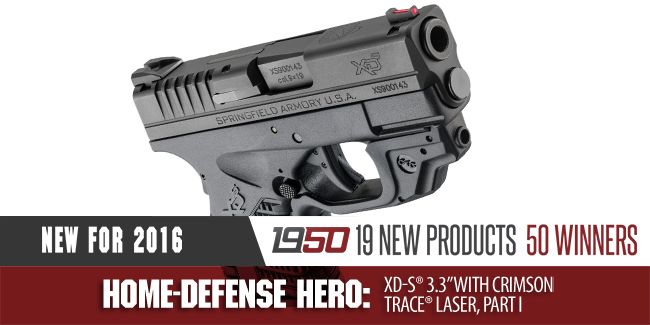 It's 2016, and a new shooting season is again upon us.
January always means a few things to me: Bianchi practice, new gun products and SHOT Show. I always look forward to the start of a new year - pulling out my Bianchi guns, setting up my first Bianchi practice match and heading to SHOT to see what's new and cool.
SHOT is a sight to see if you've never been - kind of the ultimate playground for shooters, hunters and law enforcement.
Exhibitors from all over the world bring their most innovative, exciting new products, and buyers come to peruse and negotiate. It's the official kickstart to the shooting circuit/season and a chance to meet the who's who in the industry.
So when Springfield Armory® asked me to take a look at their new, soon-to-be-released-at-SHOT XD-S® 3.3" with a mounted Crimson Trace® Laserguard®, how could I refuse? I actually own a 3.3" and thought the addition of the laser would definitely be an interesting feature for a few reasons.
Let's discuss just one of those key reasons.
A Home-Defense Hero
There is no denying the value of a pistol-mounted laser, especially when it comes to self-defense in the home.
Based on my 17 years of experience in law enforcement, I know that in a home-defense situation, the suspect is likely to be in relatively close range. It's also quite probable that the lighting conditions inside a home are not ideal for seeing iron sights on a gun.
These facts alone have led me to researching and testing pistol-mounted lasers.
Case in Point
Let's assume a scenario in which you hear someone breaking into your home at night. The fact that you believe someone is in your house and ready to attack you creates a level of stress most have never experienced.
Moving throughout your house in the darkness can be challenging, also. Add in the responsibility of keeping track of where your muzzle is pointing, and, well, there are a lot of factors in play.
Additionally, it's not unreasonable to think that you may need to open doors or perform other tasks that may require you to use your support hand.
There are two primary advantages of the pistol-mounted laser for home self-defense situations, such as:
Low light: It's often difficult for the shooter to properly see and align sights in low lighting. Since the laser projects onto the target, the lower the lights, the easier it is to see where the laser, and therefore the gun, is pointing.
Close quarters: It may be difficult or impractical when in close quarters to fully extend your arms to raise the gun high enough and align the sights with your eye(s). A gun with a laser projects where the gun is pointed, so it doesn't matter where the gun is in relation to your eyes. You can still aim effectively.
Mind the Muzzle
Although it is designed to help with aiming, the laser is inadvertently a constant reminder of an important gun safety rule: "Never allow the muzzle to point at anything you are not willing to destroy."
So, it's not hard to see the value of a gun-mounted laser in the above scenario, as the beam emitting from the end of the gun is a constant reminder of where the muzzle is pointing.
aim with ease
I can also tell you that it's extremely easy to shoot when aiming with the laser.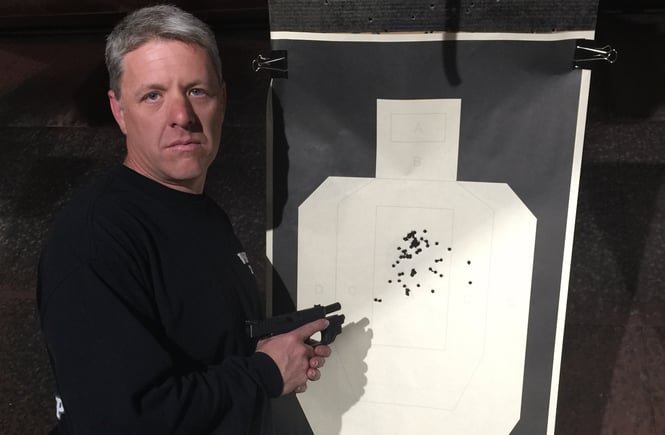 After quickly zeroing in the Springfield Armory® 3.3" XD-S® with a Crimson Trace® Laserguard®, I was able to shoot a group on a 25-yard target, in low light, that was approximately four inches.
I was again impressed that the gun could shoot a four-inch group while standing at 25 yards, as I've done the same with my own 3.3". But the more remarkable thing was how I was able to aim that well in the lighting conditions, while simultaneously being heckled by Rob Leatham.
It was completely dark in the range, with the exception of a very small amount of light on the target itself. When I tried to focus on the iron sights, I could see the rough silhouette of the sights, but they were very blurry. There was no way I could have effectively used them for aiming.
The laser, on the other hand, I could easily see in the center of the target. As I moved closer, I found it effortless to identify when the gun was back on target, which allowed me to shoot extremely quick follow-up shots. That was pretty impressive.
Even Rob thought so and almost gave me a compliment. Almost.
HOME IMPROVEMENT
While post-analyzing my shooting session with the new XD-S® 3.3", I realized that the addition of the laser did not add any noticeable weight to the pistol.
Nor did the laser cause the gun to malfunction once.
I can safely say, without hesitation, that having a laser on your home-defense pistol makes perfect sense. It's an upgrade that's definitely worth the investment.
For me personally, though, that's only a secondary benefit of the laser. The real advantage happens before the potential home-defense encounter.
As an instructor, the primary benefit of a gun-mounted laser shines during training.
Stay tuned for part two of Kyle's laser-mounted breakdown.