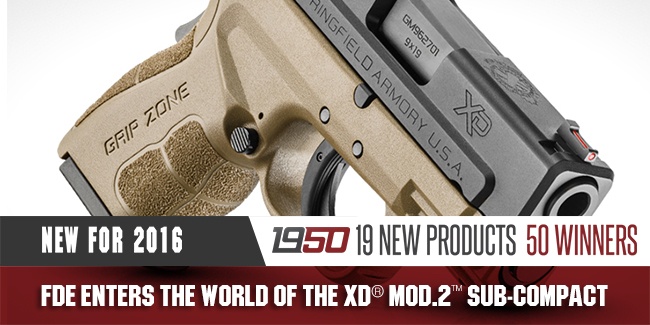 The Mod.2™ is getting a fresh coat of paint.
With the release of the new Flat Dark Earth (FDE) color option, customers can now choose from three different finishes in the Springfield Armory® XD® Mod.2™ Sub-Compact line.
The XD® Mod.2™ was originally available with a black polymer frame paired with either a Melonite® or stainless steel slide.
The latest entry into the line-up is the XD® Mod.2™ Sub-Compact with an FDE polymer frame, topped with a black Melonite® slide. And this color configuration is available in 9mm, .40 S&W or .45ACP.
New Look, Same Mod.2™
The new FDE models inherit the Mod.2™ features you know and love that were designed to make you faster and more accurate. The High-Hand™ cutouts on the back of the grip and behind the trigger allow you to put support high near the bore line to minimize muzzle flip. Carefully shaped thumb depressions provide maximum hand-to-frame contact.
The result is a handgun that is managed by the shooter – not the other way around.
The new GripZone® contours and texturing are specifically designed to provide maximum grasp at specific points where hands and fingers require the most contact. Three different textures provide the friction needed in all areas of contact. The GripZone® concept is all about using the perfect material, in exactly the right place, to achieve the desired result.
IT's What's Inside That Counts
The three new FDE models include the same internal features that have made the Sub-Compacts so popular. The barrels are hammer-forged and Melonite®-treated. Slides are forged from steel and treated with Melonite® for concealed carry durability and corrosion resistance. Especially important in sub-compact models, the dual-captive recoil springs ensure total reliability.
Customers can choose the caliber and capacity option that suits their preferences. All XD® Mod.2™ Sub-Compact models include a flush fit and patented X-Tension™ magazine. The 9mm sub-compact magazines pack 13/16 rounds, while the .40 S&W capacity is 9/12, and the .45ACP carries 9/13 rounds.
Personalized to Perfection
The newest Sub-Compacts offer the same great Point and Shoot Ergonomics™, surprising capacity and a small carry profile, while providing customers with even more personalized finish options.
It's the FDE Mod.2™ you've been waiting for.