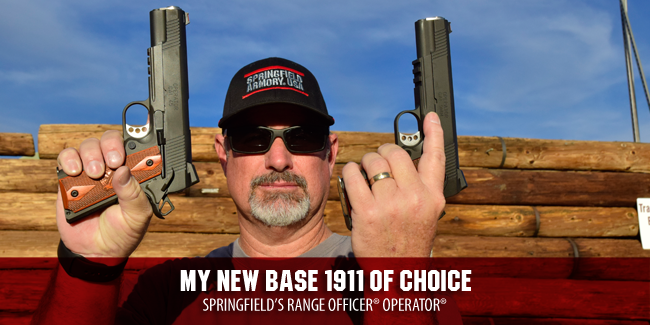 First things first - a Springfield terminology lesson.

Springfield Range Officer® - a 1911 with a minimalist modification package offering basic features for competition.
---

Springfield Operator® - a firearm featuring a frame designed with integral accessory rail, allowing mounting of lights, lasers, etc.
---

Springfield Range Officer® Operator® - a 2016 new product and my new base 1911 gun for competition.
---
DIFFERENT STROKES for different uses
Concealment
Nothing is more important to the concealed market than small size and light weight. That makes sense. You want to carry the gun around all day, and you need it to be unnoticeable.
Recreation
Recreational shooters may not care about concealing their firearm. Above all else, they want their pistols to be accurate and fun to shoot. Size and weight play second fiddle to the gun being manageable, comfortable and reliable. All sizes and weights can play here.

Law Enforcement/Military
These shooters want their duty/tactical gun to be large and robust. It's going to see some hard use, and the pistol needs to be able to take it. Law enforcement/military personnel may even prefer a little more weight, since most full-size models have improved handling characteristics and controllability. A couple ounces here and there won't matter much for carry, but make a big difference in control during rapid fire.

Competition
I, as a competitor, care most about the score. Competition shooting isn't a life and death matter. It isn't about defending my family or carrying concealed. It's just about the score, and the score is purely a matter of speed and accuracy. But I take it very seriously and will do whatever I can to improve my odds of winning.

What I want in my competition pistol may be different than what you want in your gun.

MY REQUIREMENTS
When I shoot a match and am trying to perform at my highest level, I demand these qualities in my gun, in this order:
Reliability - If the gun doesn't work 100 percent of the time, then it is useless for me. Or, at the very least, it's a gamble I do not wish to stake a performance on.
Shootability - (I like making up words.) This is my measure of how well I can operate the pistol - how well it shoots for me. Little concealment guns can be reliable and accurate, but I want my competition pistol to feel good in my hand. A small gun doesn't offer the same confidence and ease of operation. I also want it to have well-placed controls, so I can focus on the shooting, not the gun.
Accuracy - It goes without saying that it must be accurate enough to hit the intended target. This is usually easy to fulfill, which is why it comes in at No. 3 on my priorities list.
Durability - How long it holds up is a factor, but not as important as the others. And to be honest, I have never worn out any of my competition guns. Ever. This happens when you start with a good design, the best materials and precise manufacturing.
My BASELINE
My competition guns are all based on standard Springfield models:
My USPSA or NRA Action Production Division gun - an XD(M)® 5.25"

My CMP bullseye service pistol - a 5" 1911 45ACP

My IPSC Single-Stack/Classic Division metallic-sight pistols - all based on the Springfield Armory® full-size 1911 Operator® frame design
The reason I choose the Operator® for the last? One word - weight.

"weight" = GOOd
The front part of the frame on a 1911 is called the "dust cover." It keeps the recoil spring in line. When a frame is manufactured with an accessory rail integral to the dust cover, the user is then able to mount a laser or gun light.
That rail also makes the dust cover larger than standard and, therefore, heavier. This extra mass just happens to be in exactly the right place for me - the right place to perfect the balance of the gun and reduce recoil and muzzle flip.
By adding weight in the right spot, the rearward movement and rotation of the gun caused by the forward expulsion of rapidly moving lead objects is reduced.
This is just plain physics. Newton's Third law of Motion, right?
Physics aside, all I know is by adding weight, recoil and muzzle flip is reduced; Two really important things when it comes to shooting fast and accurately. This allows me to get back on target more quickly so I do not have to wait as long to get the sights re-aligned and steady.
The Operator®, like all RO models, is about "Everything you need, nothing you don't".
The Springfield 1911 Range Officer® Operator® offers the no-nonsense features that make the whole RO line standout:
GI-Style Recoil System

Forged Carbon Steel Slide and Frame

5" Stainless Steel Match-Grade Barrel

Fully Supported, Ramped Barrel in 9mm

Fixed Low-profile Combat style sights with Fiber Optic front insert.
IMO, these Range Officer® pistols are the bargain of the century.
And the RO Operator® brings the accessory rail to a whole new price point for 1911s.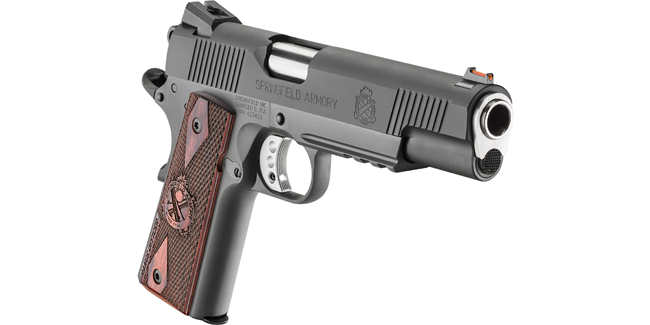 TAKE CONTROL
It's all about speed. And control. And accuracy. And speed...
What makes this new 1911 RO Operator® especially cool is the added control the shooter will experience, which allows you to shoot faster without losing accuracy.
I know, I know. It sounds like a lot to expect from just one new feature, but consider this:
Some competitive shooting organizations have maximum weight limits on the gun because they recognize that increasing mass is generally the single easiest method to reduce recoil.
And if you think adding the weight via that rail up front makes a big difference, wait until you mount a gun light. #Recoillesspistol
In 45ACP caliber, it feels like you are shooting a 9mm. And in 9mm, well, you'll just have to shoot it to experience how much a little weight here and there can help.
"SHOOTABILITY"
When I first shot this new RO Operator® I was reminded again why 1911s are my favorite pistols. Yeah, there are a lot of other well-designed handguns, but it really is the 1911 that I love. Put this down to me being old, experienced, set in my ways or whatever, but it is the way I'm able to shoot this 1911 that makes me love it.
That's shootability. (Someone should add my word to Wikipedia.)
Hypothetically Speaking
So, if you and I had to settle a disagreement, and we decided to do it by shooting for score, and I could use any pistol I wanted, I would choose a 1911. Every time. A heavy 1911. One with an accessory rail dust cover. Just like the one you find on the new Springfield 1911 RO Operator®.
Because I DO NOT like to lose - and that is a fact.