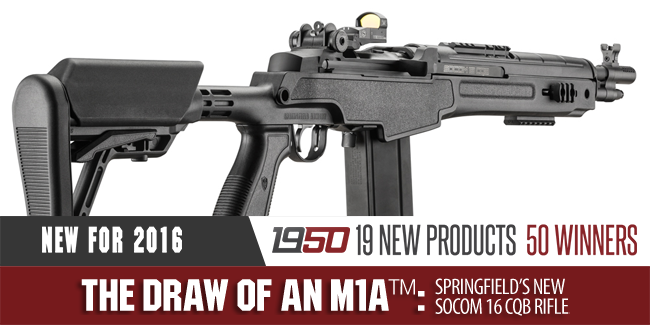 When I first saw the Springfield Armory® M1A™ rifle in the early 80s, I remember thinking, "that is the coolest-looking rifle I have ever seen." I was just out of high school, so there was no way I could have afforded such a rifle.
That didn't stop me from dreaming though.
After joining the Marines and a 20-years-plus career in law enforcement (LE), I'm happy to say now that I am the proud owner of more than one of these classic, almighty rifles.
The Draw of an M1A™
To me, there are certain guns that epitomize how guns are "supposed to look." The M14/M1A™ was the first one that fit that category, with the 1911 coming in second, but not by much.
I'm sure you too have several firearms that "just look right" to you.
successors to the Throne
As time went on, Springfield introduced variations to the M1A™ line.
The Scout Squad™ M1A™ utilized an 18" barrel and a forward-mounted sight base - it functioned exactly the same as the full-size M1A™.
The SOCOM and its 16" barrel became an immediate hit - its gas system was slightly modified for the shorter barrel and featured an integral muzzle brake.
Both the SOCOM and Scout Squad™ use a standard stock. After-market stocks for the M1A™ have always been available, and many that featured pistol-grips also appeared. Most of these fell short, for one reason or another, in my opinion.
Being both a fan of the rifle and a company insider, I knew there was talk amongst the folks at Springfield about a new stock - one that would allow the SOCOM to be utilized in more of the CQB (close quarters battle) and modern-patrol-rifle roles.
That desire has now become reality with the new SOCOM 16 CQB.
TOO CQB TO BE TRUE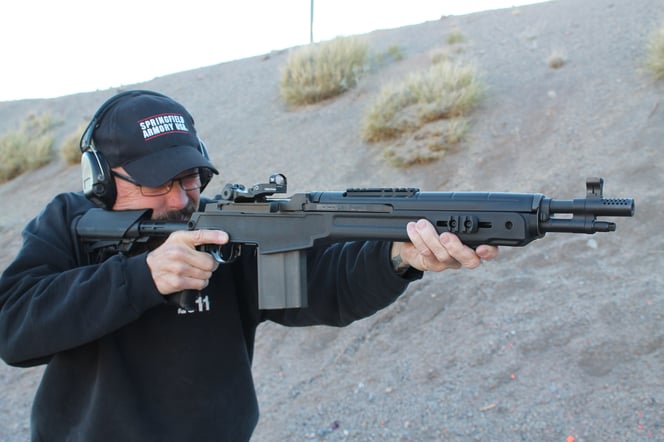 When I first heard about this rifle, I was really excited.
I knew it would have all the features of a short, lightweight, quick-handling battle rifle that could be used for just about anything. When I had a chance to check it out, I was really impressed with how light it felt, especially for being a .308. It was a blast to shoot!
With its integral pistol grip in hand and collapsible stock extended, it was a perfect fit for me. When I shouldered the rifle for the first time, I was surprised at how well it balanced and natural it felt. The sliding stock (the same that is found on many AR-15 carbines today) adjusts for length, and the pistol grip changed the angle of my wrist, allowing the gun to feel lighter than expected.
The new stock also features mounting points for Picatinny rail sections to attach a light. There are also integral QD (quick-detach) sling-swivel positions for attachment of a sling.
A CQB Wish List
When it comes to the basic design requirements for the SOCOM 16 CQB stock, it needed to:
Allow use of an optic sight with proper cheek weld
Allow comfortable use of factory iron sights
Keep the whole package lightweight, compact and quick handling
These criteria were the biggies for Springfield.
Springfield accomplished this by positioning the mount as low as possible on the receiver. This means the CQB doesn't require added risers on the stock or an adjustable cheek piece (like the PAS).
An Enviable SIGHT BASE
The engineers at Springfield designed a really innovative sight base that's mounted into the stripper clip guide. This base is designed to use the small, mini, red-dot sights that are commonplace on firearms today. The optic sight is now low enough that it allows a perfect cheek weld for me. There's no need for adjustable cheek pieces or add-on risers.
Springfield offers the M1A™ CQB with or without the optical red-dot sight package. The rifle does everything you want and adds very little weight or size to the overall package.
It's well-designed, simple and rugged.
The Ideal SWAT First-Timer
During my LE career, I have used a variety of long guns as a SWAT team member, including:
9mm sub-machine gun
.223/5.56mm rifles
.308 caliber rifles
But none of these have been the perfect rifle for entry jobs. It has to do with caliber, weight and maneuverability.
After shooting and handling this new SOCOM, I really believe, with the constant projectile improvements being made by the ammunition manufacturers, the Springfield Armory® CQB rifle will be an excellent multi-purpose police rifle.
With some of the lighter-weight bullet loads in .308, the CQB serves as a great SWAT entry gun.
PRepping for Rural
Out in the boonies, a .308 makes a lot of sense.
Rural police agencies could be well served with the new M1A™ CQB. For those lucky enough to have forward-thinking administrators at their agencies, its one rifle that can fill the role of both general-issue patrol and SWAT, and do it well.
I have been up to my off-the-grid homestead property a few times now, and I already know that I will be having to do predator control. My wife is very protective about her chickens and goats. The CQB will be ideal for that and will also have its place in my truck everywhere I drive.
The "Just Looks Right" Rifle
If you happen to be looking for a semi-automatic, lightweight, magazine-fed, adjustable-stock, sling-and-optic-ready, do-it-all .308 rifle that is fast handling and hard hitting, the Springfield Armory® M1A™ CQB should be at the top of your list.
And it "just looks right" too.