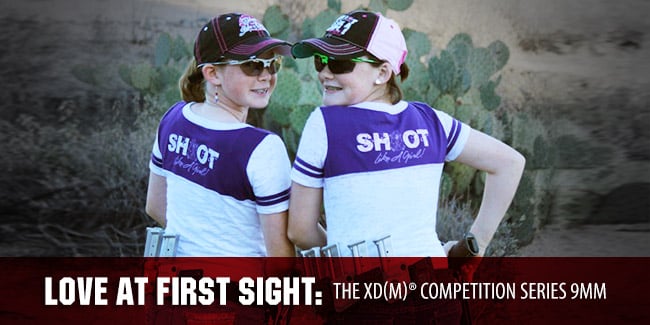 We have always been fond of Springfield Armory®'s XD(M)® pistols - from the first moment we each held one, took a sight picture and fired that first shot.
All right... we're downplaying it. A lot.
Because if you've ever met us, you know how much we absolutely love our XD(M)®s.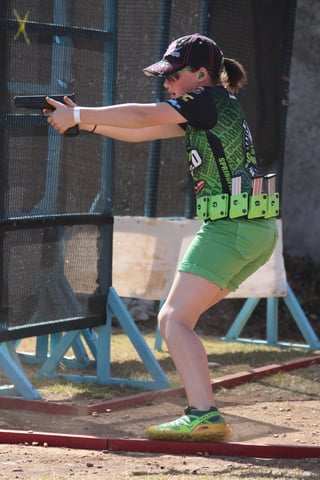 The Perfect Fit
When we started competition shooting at ages nine and ten, we couldn't find a gun that was small enough for our petite hands. We loved shooting, but we found it difficult to hold onto the guns we were using.
We dreamed of finding a competition gun to fit our small hands.
It wasn't until we went to Ladies' Night at Southern Utah Practical Shooting (SUPS) range and this nice woman let us shoot her 9mm pistol that we found the gun. It just happened to be an XD(M)®, and it also happened to fit our hands just right.
We were really excited, because the pistol had an adjustable back strap, which meant, as we grew and our hands grew, we could change it out to larger sizes. Our parents were extremely happy that we finally found a gun we could hold onto!
Soon after our report cards arrived, they bought us each an XD(M)® 5.25".
no growing pains
Now that we have grown and are 12 and 13 years old, the guns fit our hands perfectly. We have shot tens of thousands of rounds through our first 5.25" pistols and feel very comfortable and confident with them.
(Jalise: I also love 1911s, and the XD(M)® 5.25" has that 1911 grip angle - that was exactly what I was looking for in a production gun.)
Since we are both petite and do not weigh very much, we especially like the XD(M)®, because the polymer pistol is extremely lightweight. It seems to be the best gun for us, because it has the feel of a 1911 without being too heavy.
And we can grip it and hold onto it like we're supposed to.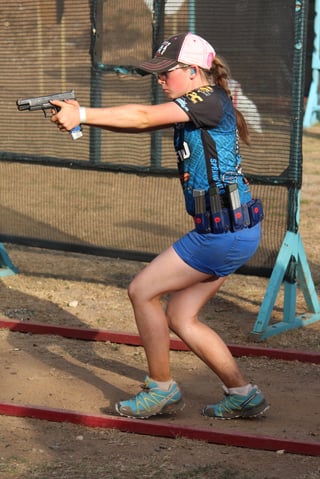 The Need for Competition
The XD(M)® also fulfills a lot of our competition needs, because we shoot three different types of matches:
USPSA

Steel Challenge

Multi-Gun
It is very convenient for us, because we use one gun for all of our competitions - one gun that we have become very familiar with shooting.
Justine: I use the 5.25" for Production Division, which is my favorite division in USPSA. I really enjoy the challenge of having a limited-capacity handgun, which forces me to focus on accuracy and smooth, quick reloading.
Jalise: I shoot it in both USPSA Limited and Production Divisions. My gun can also be used in Limited-10 and the new Carry Optics Division. Shooting in Limited Division is fun, because I can load my magazines fully and shoot a little faster than when I am shooting my Single Stack.
We both use the XD(M)® 5.25" when we shoot 3-Gun. It is a great Multi-Gun option, because it is pretty light, which is really nice when you are carrying a lot of gear.
Mom says our 3-Gun gear may weigh more than we do.
The 5.25" doesn't have an external safety you have to worry about clicking on and off, but it does have both grip and trigger safeties, so we feel very safe when competing with them.
Juniors: join the fan club
We often see juniors shooting guns that are too big for their hands or are too heavy to hold onto. We understand and empathize with how they feel, because that's exactly what we went through before we shot our first XD(M)®.
Kids - just tell your mom and dad that you would like to try an XD(M)®. Offer to do extra chores, do your homework as soon as you get home - whatever it takes! Because we think if you shoot one, you'll probably become a huge fan, too.
And parents, if you are looking for a great gun for your kids that is reliable, durable and can grow with them, an XD(M)® is a perfect option to consider.
We love our XD(M)®s and have had a lot of success and fun with these guns. And now that we are a part of Team Springfield (yay!), we look forward to continuing to shoot them for years to come.