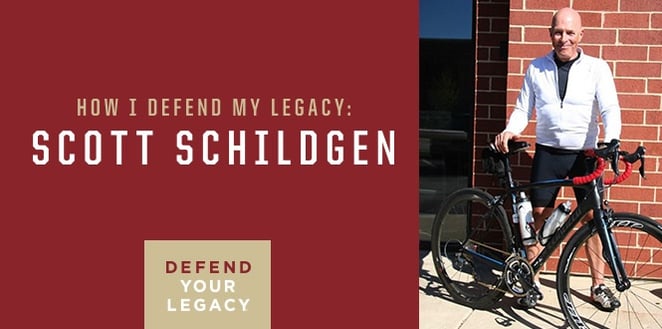 About four years ago, after decades of collecting firearms for his personal use and enjoyment, Scott Schildgen decided it was time to pass on a portion of his collection to the next generation. With that, Scott relocated a significant amount of what he had accumulated from Chicago down to Florida to deliver to his daughter, son-in-law and three grandchildren.
And when his three grandkids come of age, they'll receive one of each firearm.
"I bought three of every gun for a reason – for my three grandchildren. I want them to be gunowners and to be proud Americans and not to take our rights for granted."
This is how Scott has decided to help defend his legacy and the legacy of his country.
A Legacy Born
Surprisingly, Scott wasn't always into firearms. Growing up, his dad had a few and went shooting occasionally, but Scott wasn't involved frequently. It wasn't until his now ex-father-in-law introduced him to revolvers that Scott's enthusiasm for firearms was sparked.
He's been buying and shooting guns ever since. Scott used to shoot his cherished 1911s every week, putting about 350-500 rounds down-range. One of his favorites was an older Springfield Armory® 1911-A1. While he had to sell most of his 1911s to pay for a surgery, he hopes to get a Springfield Armory® EMP® 1911 someday.
Of course, living in Chicago nowadays makes buying guns and finding a good outdoor range challenging. Scott's lucky to make it to the nearest outdoor range, a two-hour drive, four times a year, a truth he'd love to remedy in the future.
A Life-Changer
Scott's legacy isn't complete without his devotion to a healthy lifestyle. At one point, he struggled with smoking, alcohol and obesity. It wasn't until after a heart attack and stroke and a fight with prostate cancer that he changed his life for good. After weighing in at 260 pounds in 2010, Scott shed 85 of them. He's kept the weight off by riding 50-60 miles on his bike every morning.
"You need to make up your mind - you either need to change how you're living or risk losing your life."
In a similar sense, he feels we need to do the same thing with our country.
Scott wants to see a return to many of the principles he grew up with. He believes many Americans have become complacent and lack pride and respect for the nation and its constitution.
"If we don't embrace it, we will lose it," he said.
What's Your Legacy?
Scott defined his legacy as a hard-working American, who's always tried to do the right thing and who learned a great deal about the American way of life through the Boy Scouts and a love of firearms.
How do you defend your legacy?