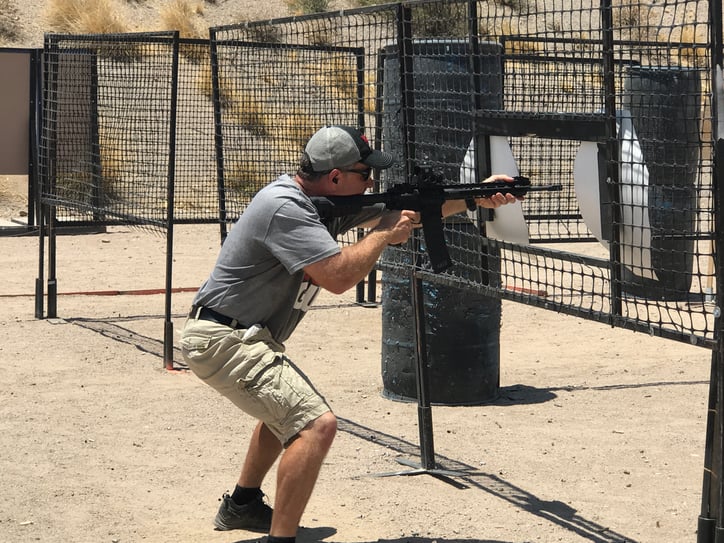 One of the greatest benefits about writing these blogs and being involved with Springfield Armory® is that occasionally they will send new products to experiment with before they are released. Normally this process is relatively secretive - if a product has not been released, it CAN'T be shown to the general public.
Also, the secret product may not be in the final stage of development. I have a lot of respect for this process and I'm very careful to make sure I don't do anything to violate their trust.
RATIONED & APPROVED BY ROB
Generally speaking, the "test" guns are given to me by Rob Leatham. Sometimes Rob asks me to shoot guns that are already in production and he just lets me try them out. But, I always ask him if the gun has been released and clarify if I can let others see it or if I have to keep it on the down low.
Back in the summer of 2017, Rob gave me two guns to shoot. As always I asked him if I needed to keep the guns under wrap. He told me not to worry about keeping them secret. One of the guns happened to be the SAINT™ Edge Rifle. The Edge is the newest version on Springfield Armory's AR-15 platform.
The rifle looked pretty cool - I really couldn't wait to shoot it. So, I told Rob there was a rifle match on the weekend and asked if I could compete with the Edge in the match. Rob approved.
EDGE-CITEMENT
Checking out the new features, I started getting excited. I immediately noticed that the Edge had a billet lower receiver, a slightly different free float hand-guard, a GREAT trigger, a compensator, and what appeared to be an adjustable gas block. It also had a custom extended charging handle and I noticed an ambidextrous selector with a short throw. It was also apparent that the rifle was extremely light.
I immediately knew that this rifle would be perfect for the weekend competition, so I quickly put an optical sight on it.
I went to the range the next day to shoot the rifle match. I arrived a little bit early to try to sight in the Edge. After talking with the match director, he allowed me to shoot at one of the steel targets to get the gun close to zeroed. I only had a few minutes before the match started. Thankfully, it only took me about 10 rounds to get the gun roughly zeroed on a steel target at about 60 yards. Not exactly the system I usually use to zero rifles, but it's what I had to do.
The rifle event was a USPSA style match - set up directly after a USPSA pistol match. So the pistol stages were slightly modified to accommodate the long guns. This type of rifle match is more about speed, manipulation and gun handling than it is a long-range, accuracy match. No shots are past 60 yards.
I DEFINITELY HAD AN EDGE
Once the match started, I quickly realized how well this rifle was set up. I certainly was not at a disadvantage with my newly acquired, quickly zeroed Edge AR-15.
The compensator was very effective and the trigger was light and really crisp. A must for competition.
I was able to easily manipulate the rifle in and out of all of the ports and shooting positions and the gun came back on target mega quick.
After shooting the four stages of the match, I remember thinking about how much work I've put into setting up other rifles to get them ready for a competition. There was no comparison. The Springfield Armory® SAINT™ Edge came set up - ready for a match - right out of the box! How awesome is that?
Ultimately I ended up winning the match and my wife even took a couple of pictures of me shooting the rifle. #EdgedOutTheCompetition
FUNNY ENDING?
A few days later, I sent Rob the pictures and the link to the match results. I added a note stating that the SAINT™ Edge is the best out-of-the-box competition rifle hands down. In fact it's so good, it has won every match it has been shot in. (Even though this was the first and only match... but that was still a factual statement!)
Rob later informed me that he was mistaken (first time I've heard him say that) and that the Edge had NOT been released and wouldn't be released until later in the year….Oops - good job, Rob!
All fun aside, this rifle is good to go right out of the box. Slap on a sight, shoot 10 rounds and you should be ready to rock at your next match.