Getting started in competitive shooting is easy, as it does not require much special equipment. What you do need is the right firearm. In the spirit of education, we have provided several tips for choosing the best possible firearm for competitive shooting.
Getting Started in Competitive Shooting
Beginning competitors should look for a number of qualities when selecting a firearm. Here are a few of the most important to consider:
Semi-Automatic with Removable Magazines.

While revolvers can be fun to compete with, they should be reserved for those with some competition experience. Beginners will have more luck with a semi-automatic handgun with removable magazine. These are highly intuitive firearms that are easy to load, fire and clean.
9mm Options.

Again, experienced competition shooters may go with another option, but beginners will find a 9mm extremely easy to use. One of the major benefits of a 9mm is its relatively low recoil and inexpensive ammunition. Many

organizations such as NRA action, NRA Bulls-eye, USPSA, The Steel Challenge and IDPA have minimum caliber restrictions. As a rule, they all permit 9mm in one division or another, although, some competitions will deduct points for the smaller 9mm caliber, so be sure to check your match rules first.
Durability.

If you plan on competing in multiple competitions each year, durability should play a major part in your purchase decision. You will be running thousands of rounds through your firearm and want it to hold up without major issues.
Full Size.

A full sized handgun with a 4 to 5 inch barrel is ideal. This longer sight radius helps with accuracy. Anything past 6 inches, though, usually brings a diminishing rate of return.
Something You Like.

Above all else, you need to make sure you actually like the handgun you purchase. Personal feel and style is as important as other features. The more you enjoy firing your handgun, the happier you'll be—and maybe more successful.
Springfield XD(m) 5.25
The Springfield XD(m) 5.25 Competition Series model is a perfect handgun for those looking to get started in competition shooting. This model comes in 9mm, .40S&W and .45ACP. With superior ergonomics, sleek design and reliable performance, the XD(m) 5.25 is the perfect pistol for those looking to compete at a high level. It has a fully adjustable rear sight, fiber optic front sight, and lighter slide for rapid cycling.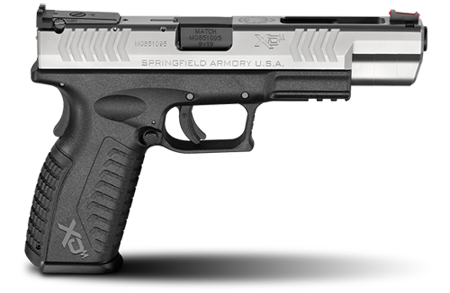 Springfield Armory®
At Springfield Armory®, we carry a number of competition series handguns for every need and desire. When searching for the perfect fit, make sure you consider all the characteristics mentioned and make a choice that is right for your comfort level and style. For more information on what we have to offer, contact us today.