When looking for a firearm for home protection, choosing the best one is paramount. These suggestions will help you choose the best firearm.
Shopping for the best home protection takes as much, if not more planning and research as purchasing a handgun for any other use. From storage to accessibility, there are a few things to consider before purchasing a handgun for home protection. Before comparing models, take the following four qualities and features into account.
Evaluating Your Home Protection Needs
Before deciding between large and small handguns, consider the following:
Experience. In a previous post, we reviewed the responsibilities of gun ownership in detail. Handguns for home defense are kept expressly for protection, and the owner's experience with handling, using, and storing a handgun comes into play. Owning a firearm for home protection comes with an obligation to practice regularly and become comfortable handling it safely.
Size. When it comes to protecting your home and family, the size of a firearm contributes to its overall feel and comfort. Unless you plan to use a handgun for home protection and for concealed carry, larger firearms are ideal for home use because they are generally easier to shoot. One aspect that may be dependent upon size is the storage. Larger firearms may go in a locked gun closet or cabinet while smaller ones can be stored in a gun safe. Make sure that wherever they are stored, they are out of reach of young children and pose no threat to any member of the household.
Power. For home defense, it's important to choose the right caliber handgun. Unlike a concealed carry firearm, the size of a home defense handgun is not restricted, providing you with more options. Though the battle over which caliber is best rages on, a good rule of thumb is: "If you can safely control and accurately shoot a particular caliber handgun, the only factor left to consider is your comfort level." For those with difficulty controlling larger calibers, the 9mm may be best, but ultimately it's your choice.
Training. Before purchasing a firearm for home defense, consider how often you will train with it. Both large and small handguns require owners to spend time training, which increases accuracy and proficiency. Being confident in what will be a very stressful situation is important. That confidence comes from knowing your handgun well and being absolutely sure you have chosen the right one.
The Best Firearms for Home Protection
Once you've reviewed these four factors, it's time to choose the best firearm for home protection. At Springfield Armory®, we provide our customers with a variety of handgun options and are asked on a daily basis about firearms for home protection. The XD® 4'' is our flagship model, setting the standard for pistols. It has a 4'' barrel and a standard size grip so that it offers the same handling and accuracy as a standard sized pistol. If a customer is interested in a smaller home protection firearm, the XD-S® might be the more appropriate option. The XD-S® is small enough to fit easily into a night table drawer but is perfectly effective in a home defense situation. Here, we've outlined what we feel are the best home protection handguns.
XD®. Available in compact or full size and three barrel lengths, the XD® is light on your wallet and perfect for home defense.
XD(M)®. The XD(M)® rivals similar handguns because it is powerful, comfortable, and ideal for home defense.
XD-S® For those who want a concealable home defense firearm, the XD-S® is the perfect size while maintaining reliability and comfort.
1911

.

Experienced gun owners may prefer the 1911, which features an external safety.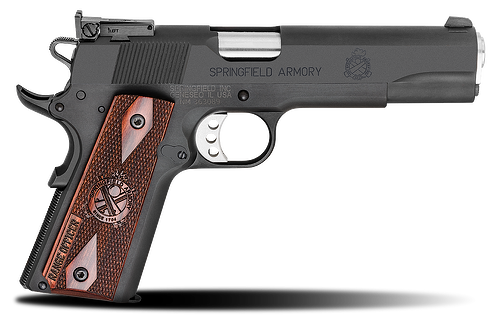 For more information about the perfect firearm for home protection, contact the experts at Springfield Armory® today or visit an authorized dealer.