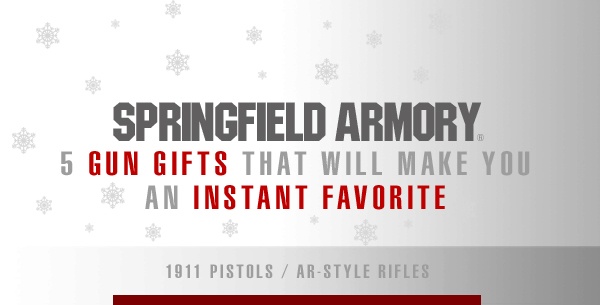 Feeling particularly generous this Christmas and want to make an excellent impression on someone? Virtually any Springfield Armory® gun will make it happen for you.
But as a starting point, you can become a favorite gift-giver of any Springfield fan on your list by giving them one of these five in particular.
For fans of full-length pistols who are also looking for a comfortable, concealable option, the XD-S® 4" is the way to go. The seven-round, 9mm, single-stack magazine helps keep this XD-S's height at a short 4.4 inches. A great multi-purpose handgun that doesn't make compromises, it's also available in 45ACP.
An excellent concealed carry option, the XD® 3" sub-compact in 9mm has the size many want in a carry pistol, while still offering great magazine capacity. Plus, the 13-round magazines can be turned into 16-round with the X-Tension™. It's also available in 40S&W.
This XD(M)® model offers shooters a pistol that performs like a full-sized pistol but in a slightly smaller package. It comes in 9mm or 40S&W and uses 19- or 16-round magazines, respectively.
If you've been following Springfield Armory® lately, you probably caught wind of the SAINT™, the first AR-style rifle manufactured by Springfield. The SAINT features specs not often found within its price range, such as a Melonite-finished barrel with a 1:8 twist rate and Bravo Company furniture.
The XD-S® 3.3" is similar to its slightly larger brother, the XD-S® 4", but with a 3.3" barrel, making it Noticeably Unnoticeable™. You can also find it in 45ACP and 40S&W.