Are you a beginning shooter thinking about jumping into the vast world of 1911s? Or a long-time collector ready to add another single stack "investment" to your firearm vault? It can be hard to choose a new 1911 with all the options out there; from completely customized, luxury models to stripped down basic versions and everything in between.
At Springfield Armory®, we take great pride in all of our firearms, but if you're in the market for a new single stack, we think you should consider one of the four 1911s below, as they offer the variety, function and reliability for a range of needs and uses.
What better way to start off than with a classic 1911 model?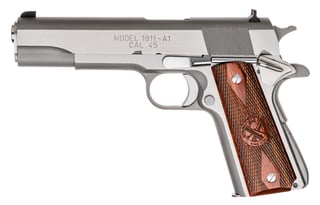 Our Mil-Spec 1911 .45ACP's foundation is on a forged frame and slide and is available in stainless
steel or the original parkerized finish. This classic 5" model is great as is, right out of the box, with its high-visibility sights, lowered ejection port and beautiful walnut (that's right—real wood) Cross Cannon™ grips. It's also a great starting point for the shooters who wish to "make it their own," with potential upgrades in the future.

"There are still some of us old-school shooters out there who like traditional, basic 1911s. Our Mil-Spec offers all of the quality and durability of a more customized 1911, without the big price tag." —Rob Leatham
Without a doubt, the .45ACP has a powerful recoil that might be a bit much for new shooters or those
not comfortable with the larger caliber. If you don't need all of that power, the Range Officer® in 9mm might be a good option. With the fully adjustable rear sight, extended thumb safety and its extended beaver-tail grip safety, the 9mm Range Officer® is a dream to shoot.
"This is one 1911 that, whether given to new or experienced shooters, is really appreciated for the solid feel of the gun and how well it handles. With the milder recoil, it's no wonder the majority of people shoot the 5" 9mm Range Officer® better than most other pistols." —Steve Horsman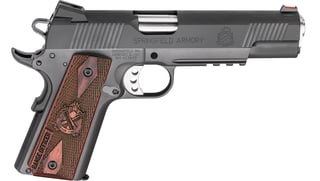 This Range Officer®, also available in .45 ACP, has features that even the most accomplished
shooters can appreciate, so whether you're just getting started in competition or adding to your ever-expanding arsenal, the RO is a great entry-level model with a few performance-enhancing upgrades.
Let's shift gears here a bit and think small—really small, like the smallest 1911 pistol made. The EMP®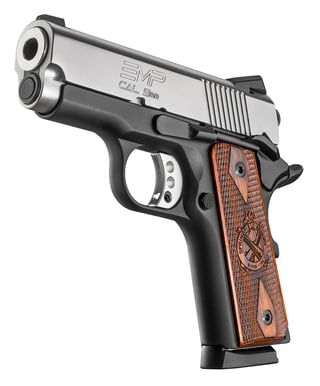 (Enhanced Micro Pistol) with a 3" barrel should be on everyone's short-list, especially if you want the most concealable 1911 pistol for everyday carry.
The EMP® in 9mm comes with 9-round magazines, and the .40 caliber comes with 8-round magazines. That's a total of 10 and 9 rounds, respectively, when you add the "plus one" in the chamber.
The 9mm EMP® has an aluminum frame and tips the scale at 27 oz. empty, so, once loaded, you will hardly notice the pistol on your hip. The .40 EMP® has a steel frame, yet only adds a few more ounces of weight. And the fiber-optic front sight makes aligning your sights almost too easy.
"If you're like me and you love full-size 1911s but want a gun that's easier to carry, the EMP® has the controls you're used to (thumb safety, grip safety, trigger pull and magazine release) in a much more compact package." —Rob Leatham
Perhaps you have larger hands, and you need a bit more gun to hold onto. With its full-length frame and 4" barrel, the new EMP® with Concealed Carry Contour gives dyed-in-the-wool 1911 fans peace of mind, knowing the grip will fill their hands.
"By bevel-cutting the frame, mainspring housing and grips to match, we have created this Concealed Carry Contour EMP®. I love the full-length frame, because my fingers don't hang off the bottom. The Concealed Carry Contour allows the gun to carry like a smaller frame, but still has the comfort, control and shootability of a full-size 1911."

The EMP® with Concealed Carry Contour is fine-tuned for everyday carry. As Steve Horsman suggests, "Give our new Concealed Carry Contour EMP® a shot. It may just be the most comfortable 1911 you have ever held and fired."
So whichever of the above models you may choose, rest assured knowing that each high-quality 1911 is backed by the legendary Springfield Armory® guarantee of reliability and durability.