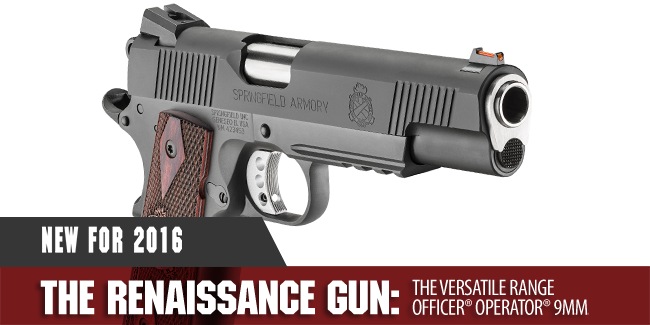 I once read that "we are all victims of our own frame of reference."
It's a statement that so often rings true in the gun world. To each situation, we all bring our own set of experience and bias, whether it be about guns, gear, training, etc.
And I am certainly no different.
Evolution Through Experience
In my profession, experience is the irreplaceable tool that forms and guides choices on what gun to build, carry, shoot, recommend and/or configure to satisfy the needs of my customers.
As I have gained further experience, I have also found that my thoughts and opinions on guns and gun "needs" have evolved. Where I was once a die-hard .45ACP 1911 user, I find (as I have progressed as a shooter) my opinions on what a gun needs have become more flexible, based on exactly the task at hand.
So as I sit here with the new Springfield Armory® Range Officer® Operator® 9mm on my bench, I can't help but think, "Might this particular configuration be the overall most versatile setup for a 1911? Really?"
Breaking it Down
Let's dive into the key elements that make this new pistol's setup ideal:
The 1911 Factor: Let's start with the obvious - the gun is a 1911, so right off the bat you get the unparalleled ergonomics and shootability that the platform is known for. The design traits and handling characteristics inherent in the 1911 make the guns easy to shoot and carry - and the RO

Operator

®

9mm is no different.
9mm Appeal: Next, the gun is chambered in 9mm. In the past, this may have been a less-than-desirable feature for the hardcore .45ACP 1911 fans (yours truly included), but a 1911 chambered in 9mm presents a certain amount of flexibility.
Recoil Reaction: The 9mm 1911 is both "softer" and cheaper to shoot than its .45ACP counterpart.
Capacity Counts: The increase in capacity to 10+1, while an obvious trade-off for the smaller caliber, is an inarguable benefit in a self-defense pistol.
Power Down: For various reasons, some folks can't or don't want to shoot full-power .45ACP 1911s, especially over-extended range sessions. The 9mm chambering further benefits the flexibility of this gun by allowing it to be applicable to a greater number of shooters, shooting sports, situations, etc.
adaptability
Which brings me to my next point - adaptability. Right out of the box, the features and configuration of the RO Operator® 9mm make it adaptable to a great number of situations and tasks.
Items such as high-visibility sights, extended safeties and an integral accessory rail allow the gun to be more useable and shootable for a wider range of shooters and scenarios.
And being a full-sized, all-steel 1911, the gun is relatively easy to carry and conceal in a good inside-the-waistband (IWB) holster, while also remaining balanced and shootable, should the need arise.
These same features help the gun to transition from an everyday carry gun to a casual competition gun without having to really change anything. When the competition is over, the gun can go back in an IWB holster until you take it off at night, at which time a light can be attached to the accessory rail and the gun can be used as a bedside pistol.
The Versatility of the 1911
While the 9mm 1911 may not be new to the pistol world, having been around for about 65 years now, the popularity of medium-bore 1911s continues to grow - and for good reason.
Pistols like the RO Operator® 9mm present a combination of features that make a pragmatic and multi-talented setup available to a wide variety of shooters.
So is this gun and configuration the best overall 1911 for you? You'll just have to shoot one and find out for yourself.