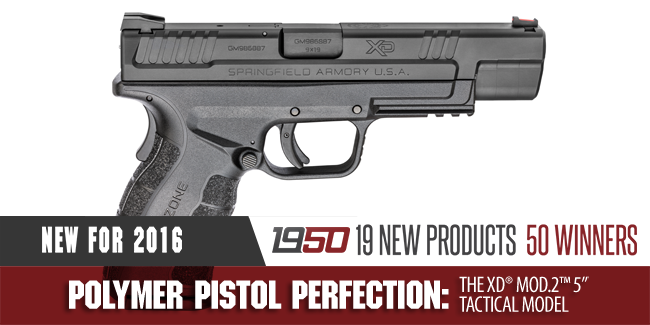 When the original XD® 5" Tactical 9mm pistol came out more than 10 years ago, I immediately became a huge fan, as the gun had everything I desired in a polymer pistol.
Or so I thought at the time. Springfield Armory®'s latest XD® evolution may have just topped itself.
Back then, the XD® Tactical was without a doubt my all-time favorite polymer pistol. I shot this gun a lot. I was putting approximately 10,000 rounds a year through mine, and the more I practiced with it, the more I liked it. Through all of the seasons that I shot that pistol, I never once had a malfunction or broken part. I may have replaced the recoil spring. Once. It is reliability redefined.
Then a few years ago, the XD(M)® 5.25" came along.
Decisions, Decisions: XD(M)

®

vs. XD®
I immediately bought one as a replacement for my XD® 5" Tactical. The 5.25" balanced perfectly in my hand, as close to my familiar 1911s as any gun I had ever handled. And unlike some polymer pistols, it pointed just like my single-stacks. Those were huge bonuses in my book and a big part of the reason I quickly enjoyed punching out X's with the 5.25".
If I had to compare the two, though, there was just something I liked a bit more about my first XD® Tactical. Let's chalk it up to loyalty and my long-term, ammo-burning relationship with the original XD® 5".
Fast forward about seven years.
Meet The XD® Mod.2™
Springfield Armory® introduced a new version of the XD® - the Mod.2™ Sub-Compact pistol. It was an updated and improved version of the original XD®.
I won't go into all of the differences between the two, except to say that everything that changed made the gun feel and handle better than I had expected. Although it was enticing, I decided to hold off on my impulse to buy the Sub-Compact. (I know, so unlike me...)
I said to myself, "It's just a matter of time before I see the XD® Mod.2™ in a 5" Tactical version, right?" And sure enough, about a year after the Sub-Compact was introduced, the Mod.2™ 4" Service Model rolled out.
"Right on track," I thought. "My full-size dream polymer pistol should be hot off the assembly line next."
I love it when my predictions come true.
A New Evolution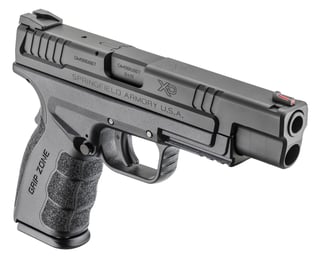 I was lucky enough to get my hands on one of the first Mod.2™ 5" Tactical pistols last week. Rob Leatham and I headed out to Usery Mountain Shooting Range to give it a test. The gun actually felt like it was built for my hand. "Perfect," I thought.
While the grip is exactly like the 4" Service Model pistol, the obvious differences are the five-inch barrel and longer slide.
But how much difference could that extra inch really make?
Well, while it doesn't appear to be that much of a change, it makes the gun feel totally different. The balance and fit of the pistol in my hand are perfect. From the grip size to the distance between the trigger and my trigger finger, to the magazine release and slide stop location.
Everything about this gun is as if the design team was making it for me.
As I shot the 9mm Mod.2™ 5" Tactical, I was also very surprised at how light the recoil was. It felt much softer than most polymer pistols I have fired. And the muzzle flip was negligible. I was impressed.
After firing just a few hundred rounds through the gun, and even though Rob was spanking me on every drill, I knew that I would own one of these guns very soon.
WORKHORSE Potential
I see the Mod.2™ 5" as a real workhorse, capable of being used for competition, law enforcement (LE) and personal/home defense. And it may finally be the gun that replaces my long-time favorite pistol - the original XD® 5" Tactical.
COMPETITION
Since I'm newly retired, I plan to shoot my soon-to-be-ordered Mod.2™ primarily for competition. I look forward to it being approved for USPSA Production Division. I'll keep you updated as I become more acquainted with it through my practice sessions.
I will give it a good workout. I promise.
LAW ENFORCEMENT
Even though I'm retired, I constantly think about my prior career. Having spent the last 25 years using a polymer pistol on a daily basis (as a police officer and firearms-training officer), I'm always evaluating guns. I can't help it.
And after evaluating the Mod.2™ 5", I can tell you that this new gun should be a viable option for LE officers everywhere, from the uniformed patrol officer to the SWAT operator to the plainclothes detective. Here's why:
Gun-mounted lights have become very commonplace for SWAT and patrol officers. They will value the accessory/light rail on the bottom of the new Mod.2™ frame.

The lightweight and slim profile is sure to please both street officers and detectives, regardless of where or how they carry their guns.

With its 16+1-round mag capacity in 9mm, it's just right for all but the deepest undercover assignments.
The Mod.2™ 5" gets a five-star LE rating from me.
Simply put, I view it as a perfect uniform-duty and SWAT handgun.
PERSONAL/HOME DEFENSE
For the legally armed citizen, the Mod.2™ 5" also makes a lot of sense. It is a great fit as both a carry and home-defense pistol.
For daily carry, this 5" pistol is a good match for me. I found years ago that my preferred way to carry concealed was with an inside-the-waistband (IWB) holster, where barrel and slide length didn't really matter all that much - within reason. My reliable, old Model 29 with an eight-and-three-eighths-inch barrel obviously would never work, but the Mod.2™ 5" is right up my alley.
For a home-defense gun, I especially appreciate the light/accessory rail. I look forward to personally taking advantage of that feature. After carrying the gun all day as my personal self-defense gun, I'll be able to quickly attach a light before I hit the sack each night. And it's just as easy to remove when I head out the door in the morning.
Can't Get Enough XD

®
As I prepare for a future of living off the grid, I know there will be several Mod.2™ 5" pistols in my arsenal of home- and self-defense guns. It carries very well, it's easy and enjoyable to shoot and it fits my hand perfectly.
Oh - and I almost forgot to mention that it retains all of the awesome safety features of the entire XD® series of pistols that both my wife and I collect and love to shoot.