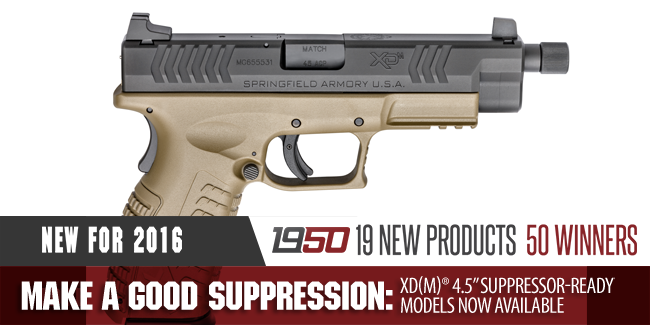 Our suppressor-ready pistol line just got a little bigger.
We've released two new, suppressor-ready XD(M)® handguns - the new 4.5-inch barrel models chambered in 9mm and 45ACP. Featuring extended, pre-threaded barrels and extra-tall suppressor height sights, these two new additions allow attachment of standard silencers with no customization required.
But wait - there's more.
Suppressors on the Rise
The two new Full-Size models feature Flat Dark Earth (FDE) frames, matched with forged-carbon steel, Melonite® slides.
We thought the time was now, with suppressors being picked up in record numbers. And after all, shooting pistols suppressed is not only enjoyable, but it's also safer for shooters and bystanders due to greatly reduced noise levels.
Spilling the Specs
The 5.28" barrel extends 0.75" from the front of the slide, so no adapter is required - you can simply attach a silencer directly to the existing barrel threads.
The 9mm XD(M)® Threaded model features the standard 0.5"x28 threading, while the 45ACP model is cut with a 0.578"x28 threads-per-inch pattern. Both models ship with a thread-protector cap to prevent damage while shooting unsuppressed.
Both front and rear sights are custom-designed and tall enough to ensure visibility over most standard suppressor bodies. The steel, three-dot sights are finely serrated on the shooter-facing sides to minimize glare and provide a more crisp sight picture. The front sight rises 0.365" above the top of the slide for unobstructed sight-picture visibility.
Why Suppress?
In offering suppressor models in both 9mm and 45ACP, we aimed to meet a variety of shooting preferences, as the 45ACP is naturally subsonic and a perfect choice for suppressor use. But our counterparts in the ammunition business are making some great and affordable 9mm subsonic rounds, so we didn't want to miss this opportunity.
Beyond the suppressor-specific changes, the XD(M)® 4.5" Threaded model shares the same great features of the standard XD(M)® models, including match-grade, hammer-forged barrels, interchangeable backstraps and classic XD® ergonomics.
Both new XD(M)® Threaded models ship with three magazines. The 9mm versions hold 19 rounds each, while the 45ACP magazines fit 13.
The new XD(M)® 4.5" Full-Size Threaded offers everything you want in a full-size pistol, just in a quieter package.