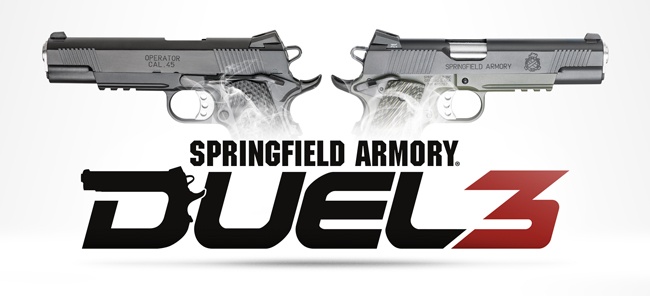 More Than $132,000 in Prizes at Stake. Don't Miss Out.
Starting Sept. 1, Springfield Armory
®
's very own DUEL 3 is arriving. And along with it comes a host of industry-leading sponsors who are bringing prize packages all September long, not to mention more than 125 firearms from

Springfield Armory

® up for grabs.
How it Works
First, register. Then, participants vote throughout the month on head-to-head matchups between Springfield Armory
®
firearms for chances to win more than $132,000 in daily and weekly prize promotions, as well as one big grand-prize package.
A Word from Our Sponsors...
In addition to the Springfield Armory® products you know and love (and a few brand-new, yet-to-be-released firearms), you'll see prize packages courtesy of:
Go to DUEL.Springfield-Armory.com for more information and to get registered for DUEL 3.
MORE FROM SPRINGFIELD ARMORY
DUEL 3 Promotion Coming Soon
The Case for Appendix Carry: Picking Your Carry Position
Midsize Face Off: 1911 Range Officer® Champion™ vs. XD-S® 4.0"