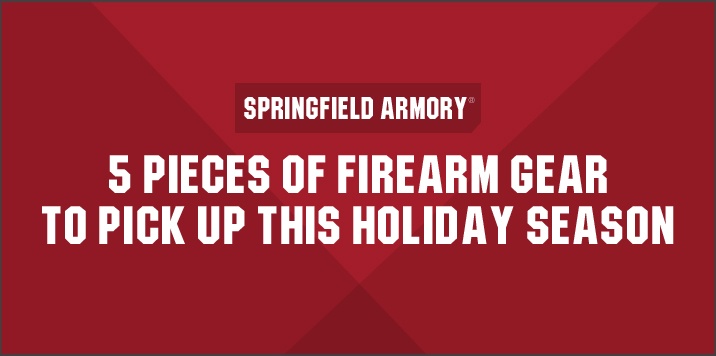 We all love our favorite Springfield Armory® firearms, but this holiday season is the perfect time to stock up on the necessary gear purchases you've been putting off. You know you have room for some spare mags, a holster or two and a refill on cleaning supplies. (And even if you're short on space, you can pick up a range bag or backpack to help you out.)

Make sure you're prepared to open heavily taped boxes this Christmas with this gray, aluminum Kershaw knife. The knife features a 420HC stainless steel blade and reversible pocket clip and it sharpens easily.
Your guns appreciate a nice layer of oil to keep them running effectively through your range sessions. Make sure you keep stocked up, and pick up some bore solvent just in case your barrel has some carbon build-up.
Don't let the size and weight of your cherished M1A™ keep you from carrying it around the range or on your wilderness adventure. Grab a sling, free up your hands and throw the rifle over your shoulder.
Spend less time reloading on your next range trip by grabbing some extra magazines. No matter if you pack an XD-S® or an EMP®, you can grab all the magazines you need right here.
Need a case for you handgun? Pick up a case for your XD(M)®, XD(S)® or 1911 here. They're durable cases on the outside and contain foam padding on the inside. Our cases also come with a couple slots for some padlocks.
Now you're going to need something to help carry all these extras. How about a well-constructed range bag? Made with 1000D nylon and several padded pockets inside and out, you can pack all the accessories, ammo and handguns you need.
Not one for carrying around a range bag? Try out a backpack instead. They come in black, coyote tan and multicam. No matter what you choose, it's got your back.
Need more? Don't worry—there's plenty to choose from here.